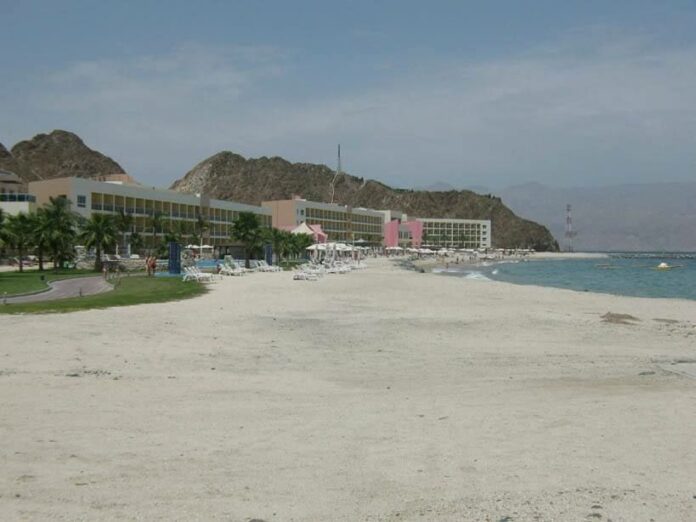 Living in Abu Dhabi, capital of the United Arab Emirates, since September 2008, I did a research about the best diving spots in the area.
The United Arab Emirates was created in the 70's after the discovery of oil in the area. UAE is formed by 7 emirates: Abu Dhabi (the Capital), Dubai, Sharjah, Ajman, Ras Al Khaimah, Umm Al Qwain and Fujairah.
I knew then, Mussandam, north part of the Emirates belonging to OMAN was a great place for diving, with warm, clear waters and great marine life. And near is Dibba a small town in the Fujairah Emirate.
So I decided for my first exprecience on diving in the Emirates drive to Fujairah where I found Hotel JAL Fujairah Resort & Spa, where there is a Dive Center.
Most of the dive centers in UAE are linked to a Hotel & resort. Arriving in the hotel I went direct to the Dive Center to check it out. I saw a very good structure and was very welcomed by nice staff.
The Dive Center counts with a vast variety of equipment for rent, most of them brand new ones. On the day schedule for my first dive, the forecast was for 17 knot wind for the afternoon so we went straight to a small rock name: Dibba Rock.
Just in from of the hotel, less than 5 minutes by boat.
Around Dibba Rock I found depths between 5 and 15 meters, warm water and temperature around 22 degrees centigrade, and visibility between 6 to 10 meters. Just 5 minutes after reach the bottom we were already around nice rocks were I could see a lot of different species of fishes, and a big variety of corals soft a hard. In Dibba Rock there are two Black Tip Sharks that are always surrounding the area, but unfortunately they didn't show up this day.
After 50 minutes dive we went back to the beach to change tanks for a second dive. I cannot forget to mention that Dibba and Mussandam area were affected by a red tide last year that last 4 months and almost destroyed the whole beautiful coral bottom.
I still could see the effect of the red tide. I believe that there is still chance for the corals but will take years to recover. But even so they count with a wide variety of marine life and a beautiful bottom.
On the next day the conditions were perfect, no wind and flat sea and we followed to a shipwreck 15 minutes to the south of Dibba: The Inchacape I.
The Inchacape I was build in US and was sent to Dubai in 1971. Was a cargo and passenger tug that served the oil platforms. In 2001 was sunk with the initiative to create an artificial reef. The boat is small only 21 meters long but full of life, a wide variety of corals, soft and hard, forming beautiful colors. At 32 meters deep in the bottom just in the side of the ship I found a tire with a beautiful Lion Fish resting there.
I started to descent, and at 18 meters I could already see the boat in navigation position deep in the sandy bottom. There is a possibility for penetrations for specialized divers and technical is a very good training spot for technical divers as well. The deck is completely open.
For my surprise ate the end of the dive doing my safety stop, hanged form the boat there was a tank at 6 meters deep with 3 second stages to be used in case of any emergency or necessity. This shows how serious the Dive Center is regarding security. On the second dive we went again to the same place but this time the visibility and current were already present but I could still see a vast number of species.
The Emirates on it's east side where there are Dubai and Abu Dhabi and also on the west side of Fujairah, Mussandam and Dibba is very rich on ship wrecks that attends since basic OPW to the most advanced technical divers.
The best season starts as the end of April and goes to September. In June and July is too hot for most of the sport activities. The worst visibility that you can get is around 10 meters and goes to more than 50 on the best days. The average of water temp is around 24 degrees. And even very deep is not less that 15 degrees.
I couldn't loose the chance to know more about diving in the Emirates and so I was introduced to Mr. Glenn R. S. Campbell. A very nice Canadian, IANTD Instructor Trainer that owns before a Dive Center in Central America and now is the manager in the Palms Dive Center. Glenn is a very excited diver with a lot of new diving projects to come including dive trips.
The Palms Dive Center is the first to provide trimix in the area and one of the most comprehensive Dive Center around UAE if not the first one. In contact with Glenn I had the opportunity to make an interview with him. I heard about a German Submarine that was sunk in the WW II and that some divers went there to check it out. Glenn was very helpful and interested so we went to a coffee to start our interview.
I started asking him about the diving conditions in the area, and that he suggested me some dive sites and shipwrecks. And of course Glenn was still very excited with the submarine that is deep at 120m, and started to tell me about some deep wreck dives for technical divers. So he came with Energy Determination a tanker that sunk in 1979. The ship goes up to 80 meters deep.
Glenn also called a friend to know more information and collect some details of the dive in the submarine. Ines was also another shipwreck commented by Glenn, this wreck is in the Fujairah area at 72 meters deep and is also another dive for technical divers.
During the whole interview Glenn was very excited but from time to time I saw him distracted, I asked what was happening and he answered me saying that he was at 120m deep at 45 miles offshore, on the submarine spot remembering his dive and the images that he can not forget. The submarine is the U533 was sunk in 1943 after being attacked by an American aircraft PBY-5A Catalina.
Only one crew member survived but tree abandoned the sub, but one died after reaching surface and the other died on his attempt to reach the surface. The one that survived swam for 20 miles and 28 hours before he was captured in the coast of Oman.
A group of divers : Bill Leemann, Ahmed Khassim, Ali Fikree and Phi Le did a research during 8 years to find the location and plan the dive.
Bill did the research and planning, Ali collected the historical data. The Sub was finally located at 45 miles of shore Khor Fakkan south of Dibba. The divers did already more than 5 dives using trimix with doubles and CCR's. They did a preparation for this dive for one year diving every weekend in depths between 75 and 85 meters. Bill and Ahmed were the first to see the sub and then the second group of divers Ali and Phi.
The visibility at 120 meters is impressive more than 60 meters and the temperature around 15 degrees. Since the temperature is not that cold they used air instead of argon on their dry suits. This dive is certainly a dive for 5 hours total. But since this is a very specific and dangerous dive they count with a very good planning, including safety divers at 40 meters to help with the decompression and even give the divers isotonic drinks and soup since the decompression is very long.
Glenn said that they are preparing a full report and a filming to have it on the National Geographic Channel. Since this is a special dive, nobody except the group of divers that discover the sub are being diving there. But in the future Glenn believes that it will be possible to take some other divers. I'll be in contact with Glenn to check for the possibility to have a team of divers going there to check this spectacular submarine.
There are many others shipwrecks to be explored in the area, so there is a chance to have a team of Brazilian divers in a near future around the UAE.
Since that in Brazil we have certified divers with experience enough for any kind o technical dive. Soon I'll be in Mussandam and Muscat in Oman to check more diving spots around here. The UAE is a perfect place for divers fanatic on shipwrecks, but also for the wide range of certified divers.